Welcome to Prairie Originals, where we specialize in growing native prairie wildflowers and native plants for landscaping. We can help you work with Mother Nature to create an environmentally-friendly wildflower garden that is beautiful, rewarding and easy to take care of. We sell indigenous Manitoba Prairie Wildflower Seeds and Native Prairie Plants, Grasses, Shrubs & Vines. We are a landscaping supplier as our nursery can supply landscape contractors with nursery grown native plants as well.
Our indigenous plants are great for Butterfly Gardens, Prairie Meadows, Gardens for the Birds, Perennial Flower Beds, Shade Gardens, Seasonally Flooded Gardens and Lakeshore Buffers.
Manitoba Prairie Wildflowers, Manitoba Prairie Grasses and Native Prairie Shrubs and Vines help you create not just a flower garden but a sustainable, exciting community where you can share your space with nature's creatures like birds, butterflies, toads and frogs. Our native prairie plants provide the staples of life, food and shelter, and this encourages these fascinating visitors to stay and raise a family.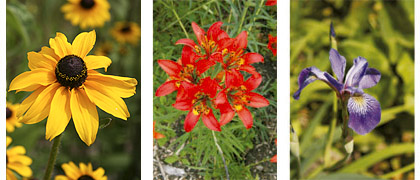 We invite you to visit the Prairie Originals native prairie plant nursery at our Selkirk location (25 kms north of Winnipeg, Manitoba - Use our map below) or to visit our booth at the St. Norbert Farmer's Market in south Winnipeg.
See Business Hours for additional details